What Hillary Clinton Means to Me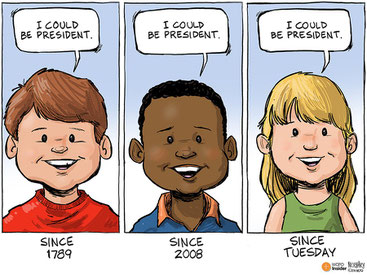 This past week, I spent a lot of time  watching the speeches of the National Democratic Convention, and I shed a lot of tears in the process. Completely inspired by Michelle Obama's, and then by Barack Obama's speech, both praising unity and equal rights, I did not expect my levels of emotion to raise even more. Then, I found myself weeping in front of the screen when Chelsea Clinton introduced her mother and hero as the next democratic candidate for presidency of the United States of America. 
I was not on my own, other women surrounding me, at the convention, and on twitter teared up. Witnessing a stadium full of people cheering for a woman, not for her looks or their sexuality, but for her ambitions and her believes,  just took our breath away. For a moment women of all generations, countries, and believes felt united in pain, joy, and hope. 
Certainly, some of Clinton's past political views and decisions are questionable, and I disagree with many, but regardless of one's political views, we must acknowledge this as an absolutely tremendous moment in history. Reading daily about the discrimination that women still experience, I marvel at Clinton's achievements and her irrepressible will to succeed and to fight for what she believes in. As a woman in politics, and an ambitious one, Clinton has experienced all kinds of abuse over the past decade. Whether the media criticized her appearance or her voice, proclaimed she was extremely  aggressive or not feminine enough, disagreed with her choice of clothes or her leisure time activities, Clinton has been the target of a lot of unfair press that very few male politicians have to endure.
Clinton has earned my utmost respect for not giving up on her goals, despite experiencing sexist comments of this kind for decades. The will power to persevere in the face of obstacles, failures, and criticism is a quality that I admire beyond no other. Despite defeat in 2008, Clinton continued her engagement in politics, and decided to work for and learn from someone who did better than her. She emerged from this experience as a stronger person and candidate, and gathered all her energy to try again. This attitude and this trajectory are incredibly inspiring to me. These are the qualities of a leader and a role model.
For me and many other women of my own and older generations last week marked the start of a new era: The biggest glass ceiling in the Western world has been shattered, and women can now run for presidency not only in theory. Amazingly,  for the youngest generation this era is all they will ever know. One of my favorite tweets of the last week is that of a husband and father who described his wife's and his young daughter's reaction in response to Clinton's nomination. Whilst his wife was in tears just like myself, his daughter did not understand the importance of  this event. The thought that young girls today take it for granted that a woman can be president consoles me in these otherwise troublesome times. Here's hoping to a new era, one in which little girls' role models are not confined to beauty queens, and in which little girls' aspirations reach beyond being pretty and pleasant. Instead, little girls will hear everyday about a female president with "grit and grace" who aimed for one of the most challenging and important positions of our time, and they will know that one of them might be the next president. Equally important, little boys will learn about a male partner who supports his partner's career and who admires her for what she has achieved. As Clinton herself said, "When barriers fall, it clears the way for everyone".
 I am grateful to be alive at the beginning of this era, witnessing one of the greatest strides the women's rights movement has ever made. I cannot wait for the next one in November. I am with her. 
~Please reference: Sudkaemper, A. (2016, August 3) I am with her. Retrieved from www.antoniasudkaemper.com